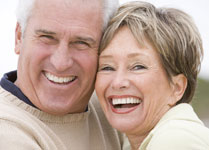 Can you guess the only physical attribute that is socially acceptable to look at when meeting someone? If you guessed the eyes, you are close. The answer is the smile! Specifically the teeth in the frame of the lips. In our  USA society, looking at a smile is not considered impolite. People look at our smiles or lack of one and judge us, whether right or wrong.
Do we care about our appearance? Do we have missing or crocked teeth? Are our teeth darkened from years of stain build-up, old, discolored fillings, or caps that look artificial and dark at the gum line? If we do not show that we care about ourselves, how could we expect someone to trust us with their business needs? Do we wish to date someone with a compromised smile? Today's modern dental technology can create a natural healthy smile that can be even better than the smile nature provided us.
In the hands of an experienced cosmetic dentist, the smile you always dreamed you wanted can be a reality! At Smiles by Design, Dr. Brother has over thirty years of experience taking care of problems as routine as laser whitening of teeth to complete Smile Makeovers utilizing non-metal all-ceramic crowns, veneers, bonding, and inlays. Implants also have opened a new avenue for achieving appearance and chewing function as good as the original equipment. Dr. Brother has been trained in implantology at the world-renowned New York University Implant Center.
I believe that each of us has the right to achieve the level of oral health we desire to reach. It is up to the doctor to set realistic goals for accomplishing this. "At Smiles By Design, I believe it is necessary to work with you, the patient, to review your own goals for your smile and provide all the options."-Dr. Brother.
Here is what patients are saying about the services provided by Dr. Brother at Smiles by Design.
" As an actor, I am aware that having that million-dollar smile is such a great asset. My teeth were short, and my gums showed when I smiled. Through crowns, veneers, and gum work, Dr.Brother created that smile for me. Now I am much more confident in not only auditions but also in life. Thank you, Dr. Brother" J.S.
"I grew up in Kenya, where many children had teeth damaged like mine. When I came to this country, I made fixing my teeth a goal. Before Dr. Brother fixed my teeth, I never liked to smile. Now I smile all the time." B.K.
" The quality of caring you and your attentive staff provide is truly 5-star. Thank you for my new smile. " C.W.
Chandler Dentist Kelly Jorn Cook, DDS
Kelly Jorn Cook, DDS
3800 West Ray Road, Suite 19
Chandler, AZ 85226