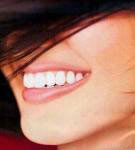 Why is a smile attractive? Why is it so important? Want to learn how to Rock your Smile with the Doc?
A great smile is an important part of being attractive to the image-conscious. Several Hollywood stars have done everything they can to get the perfect smile. However, the term 'Smile Makeover' encompasses much different cosmetic dentistry smile design and correction techniques, from the simplest teeth whitening procedures to the most advanced techniques such as teeth implants.
Perfect smiles of Hollywood
Tom Cruise's smile is almost as famous as the actor himself, but it wasn't always that way. Early pictures of Tom Cruise show very miss-aligned teeth, suggesting that he had a considerable amount of cosmetic dentistry work to correct his smile. His bite became slightly miss-aligned more recently, and this was corrected by wearing braces.
Porcelain veneers appeared to have been placed on the front teeth of Hollywood star Miley Cyrus. It is believed Miley's smile could have also covered her small incisors with veneers to give them a longer look making them appear in line with the rest of her teeth.
Demi Moore is no stranger to cosmetic dentistry too. She is believed to have had a complete set of veneers as part of her smile design makeover treatment.
Why a smile makes the difference
You may not be a Hollywood star or be anywhere near the cutthroat go-get-it world of modern business, but it is still desirable to have great teeth giving you the ability to smile confidently.
So just what is a smile makeover? It is a set of dental and cosmetic procedures to correct a person's smile. For each person, the treatment which is offered varies. Sometimes, you'll need more than a single treatment plan. It could be as simple as tooth whitening or, more complex, involving dental implants. Other procedures such as cosmetic bonding, gum contouring, veneers, and crowns may also be part of a typical smile makeover.
Various treatments of a smile makeover 
Smile makeover treatments offer many possibilities.
Miss-aligned teeth can be straightened through conventional orthodontic treatment or more modern treatments such as Invisalign braces, barely noticeable when worn. However, a far quicker solution to the problem is to use porcelain veneers.
Broken or chipped teeth can also be corrected with porcelain crowns, veneers, or cosmetic bonding.
Unattractively shaped gums can be rectified through laser gum contouring or other conventional surgical methods.
Gleaming, white teeth are also important to acquire a confidence-inducing smile. Stained teeth can be made white again through whitening procedures such as prophyflex cleaning.
A missing tooth can be replaced with a denture, dental bridge, or dental implant. This treatment can also be considered conventional dentistry because missing teeth could give you practical problems in addition to cosmetic issues.
Gaps between the teeth can seriously take the sheen off your smile. The gaps can be rectified through the use of porcelain veneers. The other solution is, of course, the orthodontic approach of moving the teeth closer.
There are also cosmetic procedures available. These can correct frown lines and smile lines to give the individual a more youthful appearance. In addition, botox injections and other fillers are used.
Initial consultation for a smile makeover
One of the most important elements of a smile makeover is the initial consultation. In this process, the dentist carefully analyzes the patient, examining the teeth and gums' physical condition (vital for any dental procedure to ensure medical compatibility), taking photographs, or using software such as Computer-Aided Smile Design.
Computer-Aided Smile Design can help redesign the patients' teeth using specialized imaging software and conventional photography to forecast how the smile would appear after the treatment. Some cosmetic Dentists also use Smile Style Guides showing examples of the possibilities of the various smile makeover treatments. Most importantly, patients can discuss their requirements and expectations with the dentist.
Factors constituting smile makeover
Smile makeovers have many factors involved. It may be easy to smile, but the perfect smile is made up of many aspects: color, shape, length, arrangement of the teeth, the shape of the lips, skin tone, gum tissue, and even facial appearance. A smile makeover therapy touches upon the elements that make the smile appear less than perfect. The types of treatment used also depend on the expectations of the individual. Sometimes, all these elements may have to be addressed through dental and cosmetic procedures, while any one area is dealt with at other times.
Factors that affect your smile include inconsistent spacing and alignment between the teeth, uneven and cracked or chipped teeth, missing teeth, and unshapely face, cheeks and lips.
Teeth whitening for brighter teeth
Teeth color is important too. While stained teeth are often caused by smoking, many people have teeth that appear stained by nature. In both cases, teeth whitening treatments can make your teeth brighter, giving them a gleaming white shine. These treatments employ a whitening gel consisting partly of hydrogen peroxide. A shield protects the gums before the gel is applied to prevent damage to the gums while using this whitening gel.
Sometimes, a laser is used by dentists to accentuate the gel's bleaching properties. As a result, you'll notice the difference after just a single session, with your teeth appearing lighter by up to five shades. You don't need to attend more sessions for further whitening, but molds of the teeth applied with a less powerful whitening gel can be used at home.
Gum contouring and composite bonding
For those whose teeth appear short due to excessive gum tissue, gum contouring treatment can help. This can be performed with the help of a surgical laser or through traditional surgical techniques. Shorter teeth can also occur due to the aging process, causing a gummy smile. Conversely, long teeth are always attractive and a sign of youthfulness. Smile makeover treatment centered on this problem can focus primarily on lengthening the two front teeth through porcelain veneers or composite bonding.
White dental filling composite normally used for tooth fillings can also restore broken or chipped teeth as a bonding treatment. The material, which has the tooth's color, is used to modify its shape or size.
Rectifying the smile line
The imaginary smile line that goes through the upper teeth edges from left to right (or vice versa) may not sound like much but can make a vital difference to how a smile appears. The perfect line is the one whose curve is similar to the lower lip's contour while smiling, making the smile line an important factor in a beautiful smile. The smile line can be corrected with gum contouring or composite veneers.
These varied elements of a smile makeover treatment are the secret behind the smile of many a celebrity. These dental and cosmetic treatments are now easily accessible to many, making the perfect smile not a distant dream anymore.
Kelly Jorn Cook, DDS
3800 W Ray Rd, Ste 19
Chandler, AZ  85226
Phone: (480) 899-4477
Https://www.KellyJornCook.com
Outstanding service and dental work. We Rock n Roll in Cosmetic, Family, and Restorative Dentistry.